Bundled Wire Harness for Utility Scale Solar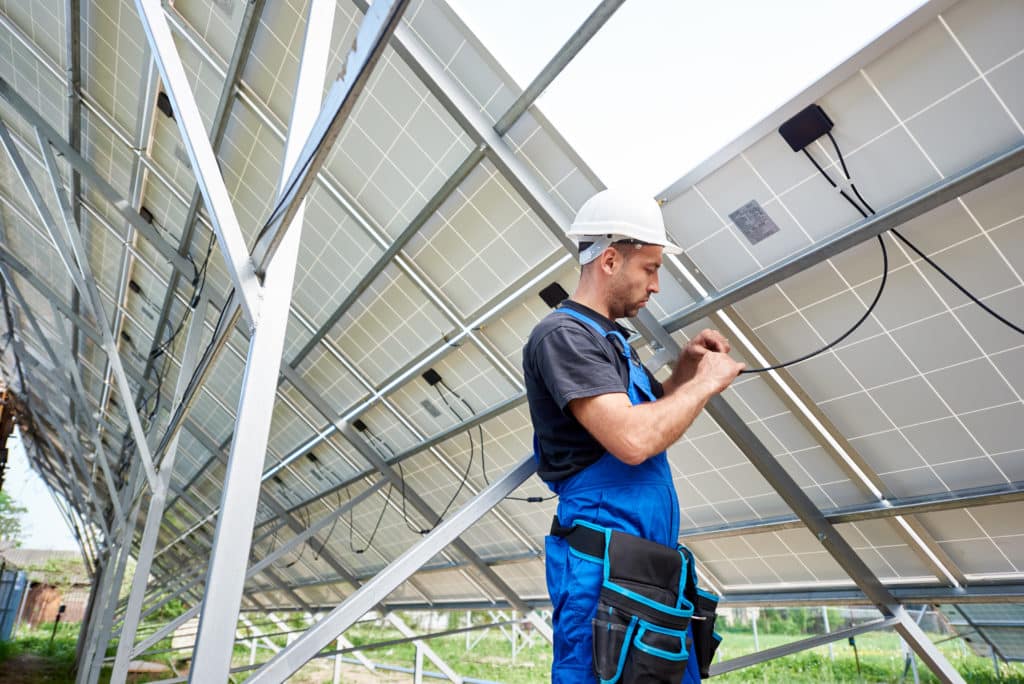 As utility scale solar construction is projected to increase in 2021 and renewable energy becomes more widespread, there is need for more solar connectivity solutions and more specialized components to meet the unique needs of this rapidly evolving industry. One of these specialized components is a solar wire harness.  
A solar wire harness is pre-bundled solar wires designed to meet the needs of solar projects ensuring quick turnarounds and increased profit margins. 
We get a deep dive into the benefits of using solar wire harnesses from Tony Wagner, One-Pull's Chief Operations Officer. 
1. 
S
aves
P
roject
T
ime
:
D
o
in
a D
ay
W
hat
T
raditionally
T
akes
a
W
eek
Pulling wire the traditional way with single conductors takes a long time. It involves a lot of labor, reel set up, and labeling. For PV wire installations on utility scale solar projects, this will typically involve 40 – 500 rows for projects between 5 and 25 MW. For example, installing solar PV string wire to power a 1-megawatt (MW) solar project might take a team of 3-5 electrical professionals one week to pull wire the traditional way versus one day when installing a pre-planned, pre-cut, and pre-printed bundled wire system. 
One-Pull custom prints the inverter/combiner box number and string number approximately every 12" on each conductor in the bundled cable harness. This allows for easy identification and eliminates the need to identify and label each wire saving the electrical contractors significant time. 
2. I
n
creases
P
rofit
M
argins
Switching from single PV string wire conductors to bundled wire harness enables electrical contractors to cut down on project time and get to their next project more quickly. Consequently, this increases their profit margins. 
The increased profit margins improve even more when including MC4 connectors pre–installed on the PV string conductors for easy connection to the solar modules, since the solar modules come with connectors pre-installed on the back of the panel. Every 1 MW requires approximately 180 connectors on the PV string end of the wire connections. These connectors are installed in advance only on one side of the harness to allow for the harness to be pulled through conduit. 
In addition to this, having pre-bundled solar PV wire delivered to the site means not having to store inventory on site. As a result, the bundled cable helps save on storage costs. 
Learn more about shrinking profit margins and other issues facing the electrical construction industry.  
3. I
mproves Chances to Win a Job Bid
One of the ways that electrical contractors can become competitive on job bids is by setting themselves apart from the competition. Using value–added solutions such as a solar wire harness could ultimately help the electrical contractor win the job bid due to the competitive advantages that accrue from using a solar wire harness. A bid that stipulates a bundled wire solution makes the bid more attractive. 
Having a turnkey solution such as the pre-bundled solar wire harness assures projects stakeholders of the cost-savings and improved labor productivity, since such solutions provides proof that the project will be completed by the predetermined date (or potentially even faster). For electrical contractors, this means late fees are avoided.  
Find out other ways contractors can stay competitive on job bids.  
4
.
E
liminates
Hazard and Safety Issues
Pulling single strings of wire on a utility scale solar project is strenuous and takes a physical toll on the workers. The more time electricians spend on the job site, the chance of incurring a job site injury inevitably increases. Electrical contractors are often looking for tools that enhance the safety of their teams on the job site. Using a solar bundled wire solution not only reduces the time they are exposed to weather conditions but also the time it takes to complete an installation. 
At One-pull, we deliver the bundled PV string wire on one reel per row or per conduit home run, ensuring faster pull times and less reels cluttering the job site that may lead to safety issues. One-Pull will also pick up the empty spools and pallets thereby eliminating further safety issues and disposal costs. 
Click to learn which states are creating solar opportunities for electrical contractors.  
Contact us to discuss your next project WE'LL SHOW YOU HOW TO REDUCE PV WIRE INSTALLATION TIMES BY UP TO 80%.