Projected Renewable Energy Growth by 2030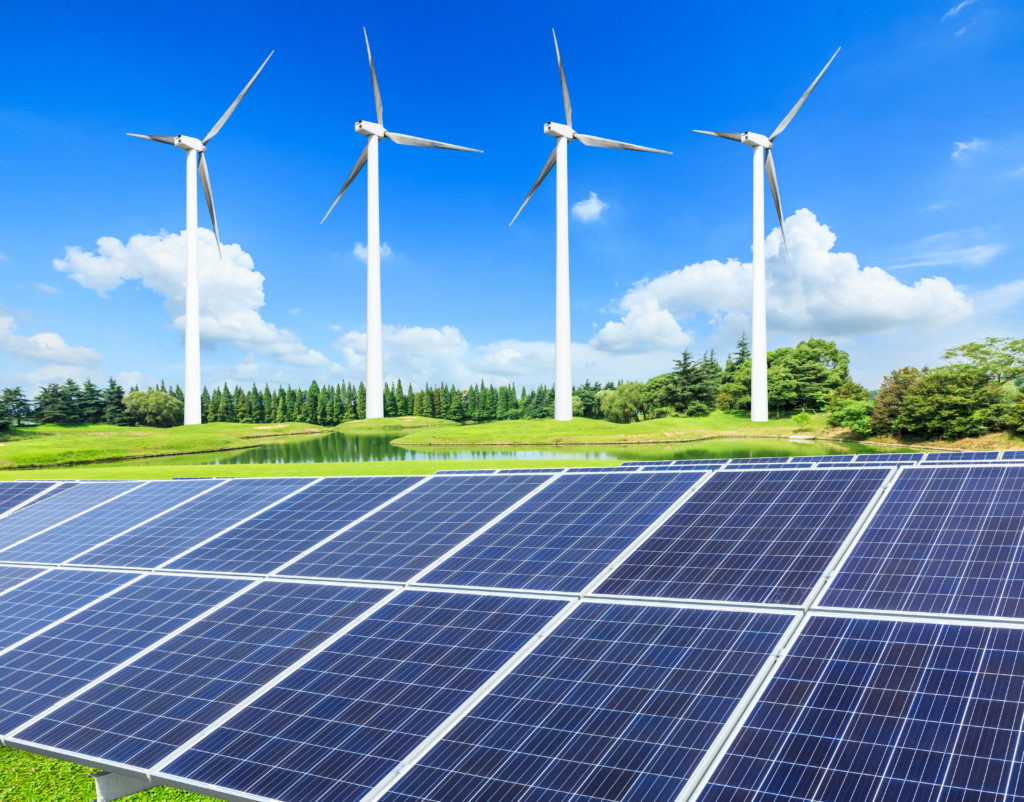 Is It Possible For New York and Other U.S. States to Reach 70% Renewable Energy By 2030? Yes! But only if they use the One-Pull bundled wire system!
The solar industry has experienced major growth in the last decade at around an average growth rate of 42% per year. However, is it growing fast enough to support the renewable energy goals of the next decade? The United States hopes to have at least 70% of energy consumption coming from renewable energy by 2030. To achieve a grid powered mostly by renewable energy, it will require the U.S to increase its carbon-free capacity by at least 150%. These goals are possible, however, to be able to reach the intended capacity by 2030, the U.S. will need to save time and money.
To examine what it will take to achieve a 70% renewable energy grid, we will examine statistics from the state of New York. New York is one of the top 10 states whose homes are powered by photovoltaic (PV) solar energy with an average of 170 homes powered per Megawatt(MW) of PV. New York is also one of the leading states in adopting the "70 by 30" goal.
New York's Renewable Energy Plan
The Governor of New York, Cuomo, released a Green New Deal goal to obtain 70% of New York's electricity from renewable sources by 2030; in addition to a state mandate for a 100% emissions-free electricity grid by 2040. Several new wind and solar projects are already underway, which are expected to generate over 2.5 million megawatt-hours of renewable energy annually. Additionally, the Green New Deal set specific Megawatt goals such as adding 3,000 MW of storage and adding 6,000 MW of distributed solar all by 2030.
The Department of Public Service along with the New York Energy Research and Development Authority (NYSERDA), issued a whitepaper dictating a plan for New York to follow to help achieve the full 70%. The whitepaper sets out a schedule with a target of 4,500-gigawatt-hours annually, around a 33% increase in where the target is now. Staying within the time constraints on this plan is crucial. As New York is one of the first states to adopt the goal of a majority renewable energy grid, it is setting an example for other U.S. states who are striving toward an emission-free energy sector.
How Can One-Pull Help Reduce Time?
With only 10 years to meet its goals, and with lag times between completion and operation of installations, time is important. One-pull products, specifically the pre-bundled solar wire harness, are designed to cut project time. Traditional setup for PV wire installations involves a great amount of labor, setup, and labeling. Installing solar PV wire to power a 1-megawatt (MW) solar project typically takes a team of 3-5 electrical professionals one to two weeks to pull wire the traditional way. In comparison, it only takes one day when installing a pre-cut, pre-labeled, and pre-bundled wire system.
One-Pull's pre-planned, pre-cut, pre-labeled bundled cable solutions can save electrical contractors up to 80% of the time it takes to pull PV wire.
The images below show a before and after image of the usage of regular pulled wire compared to the one-pull bundle wire.
i) Traditional Wire Pull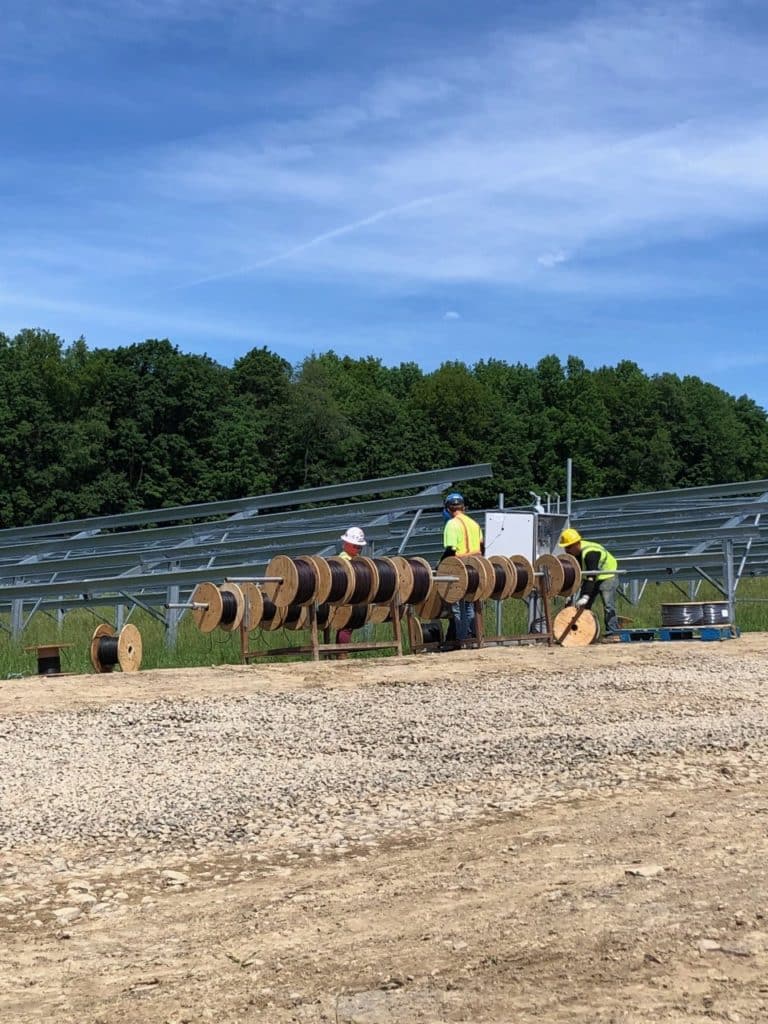 ii) Bundled Wire Pull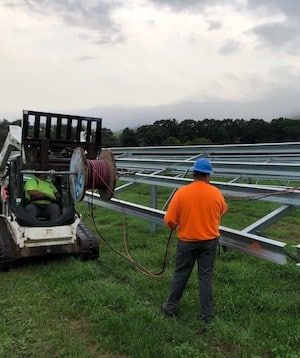 Reducing time on one project can also free up labor to work on other projects, thereby speeding up the installation process for many projects.
Despite the growth in the renewable energy sector, to reach their 70% target growth in the next 10 years, hundreds of gigawatts of solar energy need to be installed as much as five times faster than it is currently. Projects would require extreme measures to stay on the required time schedule, unless they utilized products like one-pull's pre-cut and pre-labeled bundles, which would cut their project time by up to 80%.
Learn more about how bundled cable helps electrical contractors boost margins
Contact us to discuss your next project WE'LL SHOW YOU HOW TO REDUCE PV WIRE INSTALLATION TIMES BY UP TO 80%.