Rhode Island Sets Stage for 100% Renewable Energy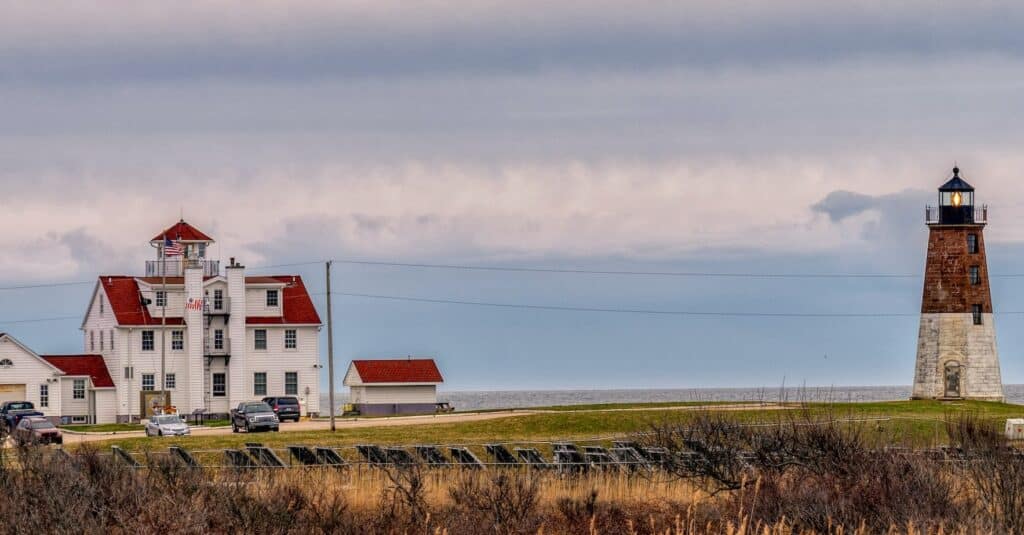 Rhode Island may be the smallest state in the nation, but it is making a big splash regarding the future of green energy in the United States.
On June 29, 2022, Governor Dan McKee signed legislation that puts the Ocean State on pace to be the first in the U.S. to reach 100% renewable energy. The law requires that by 2033, 100% of the state's electricity be offset by renewable energy. Although the law doesn't prevent using fossil fuels for energy production or use, they will be offset by clean energy sources like wind, solar, and geothermal.
According to Gov. McKee's office, the new law is expected to create thousands of new jobs while cutting the cost of renewable energy across the state.
"We've seen a 74% increase in green jobs since 2014, and that trend is going to continue as we deepen our commitment to renewables," State Rep. Deborah Ruggiero said in a statement. Ruggiero anticipates thousands of new jobs to come online to support renewable energy sources that will come online over the next several years.
Blueprint for Success: Incremental Increases to Reach Renewable Goals
If Rhode Island wants to be the first to reach 100% renewable energy, it needs to invest in emerging forms of electricity production. This will likely mean leaning more into geothermal energy, wind energy, and developing solar energy systems that take efficiency to another level.
One way to encourage more renewable energy is by turbocharging green initiatives. Under previous state laws on the books, the state was annually increasing the percentage of renewable energy generated by 1.5 percentage points. Under the newly signed law, the number picks up speed each year until reaching a 100% Renewable Energy Standard in 2033.
According to the law, the Renewable Energy Standard percentage will increase by 4% in 2023, jumping by one percent annually through 2026. The increases then become smaller, staying flat in 2027 and then rising by a half percent each year through 2032.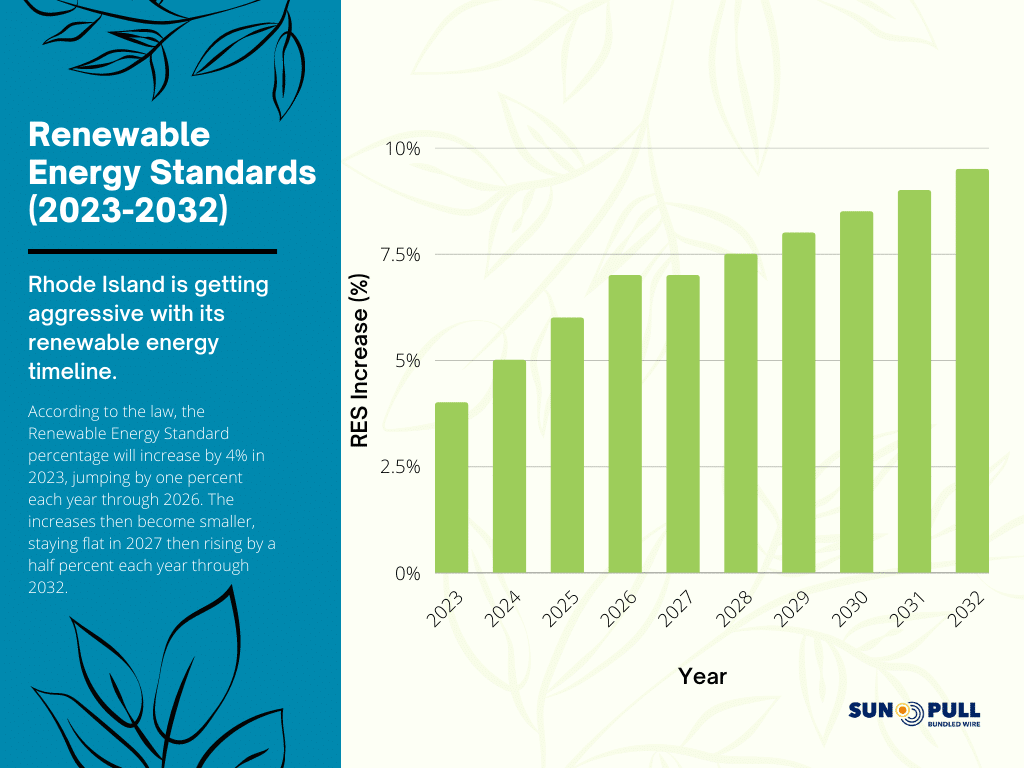 So, how does the new law work? Each year, utilities must buy renewable energy certificates for a certain percentage of power sold annually. These certificates help offset the amount of energy produced and sold by traditional fossil fuels in the state. Besides the certificates, the law also leans on renewable energy producers to up their production using everything from solar energy technologies and offshore wind to hydroelectric facilities and other sources.
What Does Energy Look Like in Rhode Island Today?
It might seem like a lofty goal for any state, but Rhode Island has an opportunity to make some waves.
U.S. Energy Information Administration (EIA) data suggests Rhode Island uses the least energy per capita in the U.S. The state also produces about 90% of its current electric supply using natural gas, the highest percentage in the nation. Only about 12% of the state's energy came from renewables, with half coming from solar panels.
While it's encouraging to see such an aggressive clean energy law on the books, there is certainly work to be done. In March 2022, for example, Rhode Island's renewable energy production reached about 79k MWh, a far cry from the 478k MWh produced by its natural gas-fired plants.
The data paints a picture of a state in transition. Renewables aren't a major energy producer in the state yet, but current production is still four times more than it was in 2018. Rhode Island is also an environmentally conscious state, pumping out the second-lowest CO2 emissions in the nation, only behind Vermont.
Solar Goals in the U.S.
Rhode Island is not the first state to push for a 100% renewable future. California was among the first to lean into clean energy, but states on both coasts are now getting involved using the blueprints laid out by early adopters.
It will take years to wean ourselves from fossil fuels – it also won't be likely to turn our backs on such efficient forms of energy. Thankfully, renewables are rising in popularity, and their efficiency is expected to increase as innovations are achieved.
The improvement isn't hard to see, either. In 2021, renewable energy sources totaled about 20% of U.S. electricity; it could increase due to recent tariff exemptions enacted by the Biden administration. The two-year exemption is expected to keep several upcoming solar projects on track while reducing the number of delays and cancelations over the next 18-24 months.
Companies like Sun-Pull Wire are also ready to do their part to ensure the solar industry grows as quickly as possible. This means producing solar photovoltaic (PV) bundled wire systems that are easy to install, simple to use, and can be done using fewer workers to address labor shortages or take on even more projects.
Ultimately, the goal is to make widespread utility-scale solar arrays a possible and affordable option throughout the United States.
Rhode Island's Investment in Renewables is Important
Yes, Rhode Island is a small state, but being successful could prove that fully renewable energy is no longer a pipedream. It's a tangible goal that can be reached with radical transformation and aggressive building toward the finish line.
The law is aggressive but also puts Rhode Island on the cutting edge of the renewables curve. Their commitment to green energy is launching it ahead of other states like California, New York, and North Carolina.
It should come without saying that the solar industry is excited to see what a renewable future looks like. We're ready for whatever might come next and excited to help serve everyone's solar needs today, tomorrow, and for years to come!
Contact us to discuss your next project WE'LL SHOW YOU HOW TO REDUCE PV WIRE INSTALLATION TIMES BY UP TO 80%.